Vera Bradley Collaborations
We can't think of anything better than making a new friend! We're always looking for partners who can help us bring new beautiful solutions to all of you. We love the idea of creating that little something extra that can turn an ordinary day into an extraordinary one. Whether it's designing the perfect bag for your dream vacation, introducing you to the most innovative new razor, or giving you something brand-new with a super-special meaning, our collaborations are all designed to bring more function (and fun) to your everyday.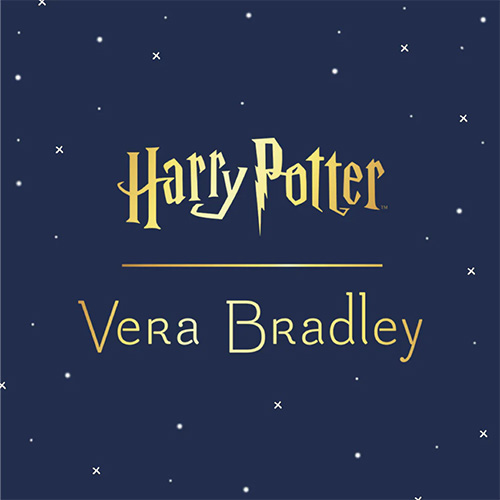 Vera Bradley + Harry Potter™
Summer 2020

Vera Bradley teamed up with Warner Bros. Consumer Products to create an exclusive Vera Bradley + Harry Potter collection that debuted in Summer 2020. For this captivating collection, we found infinite inspiration in all our most-loved scenes from Harry Potter ... and then added a dash of our own Muggle™ magic. Stay tuned for even more additions to this magical collaboration!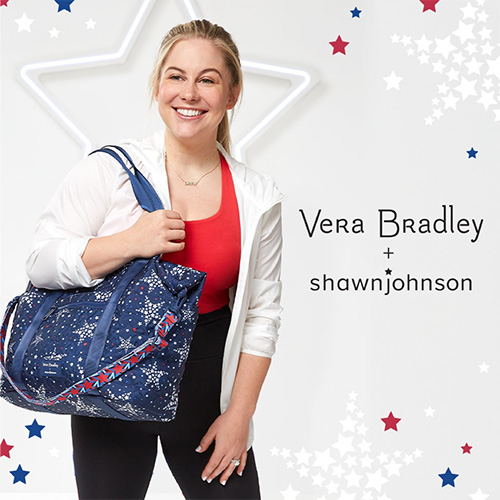 Vera Bradley + Shawn Johnson
Summer 2020

Inspired by strong women everywhere, we collaborated with gold-medalist Shawn Johnson East on a limited-edition collection designed to take you from work to workout to weekend. A percentage of proceeds will be donated to Blessings in a Backpack, a friend and partner of both Vera Bradley and Shawn, and a leader in the movement to end childhood hunger.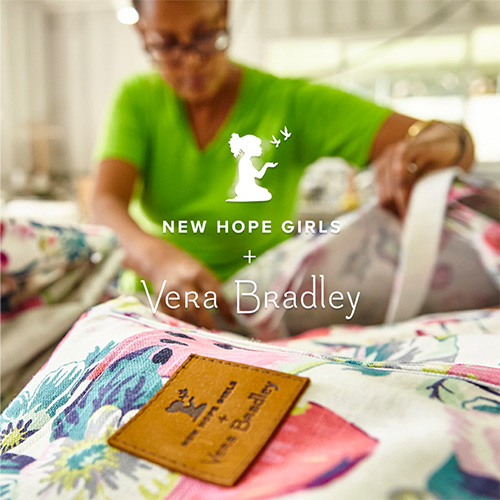 New Hope Girls + Vera Bradley
Spring 2019 & 2020

As soon as we were introduced to New Hope Girls, we knew we had to do something to support their important work. The Dominican Republic-based non-profit provides light and life to girls and women from some of the darkest and most difficult places. In 2016, we were able to help New Hope Girls achieve their dream of having their very own workshop. This year, in honor of International Women's Day, we proudly partnered with New Hope Girls for the second time to create a limited-edition collection handcrafted by their artisans.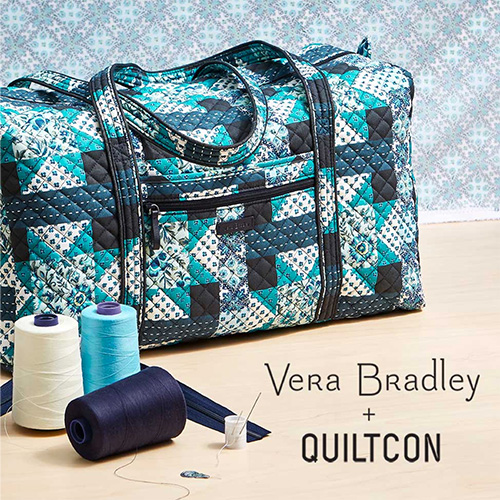 Vera Bradley + QuiltCon
Spring 2020

Quilting isn't just one of our great passions, it's in our DNA! That's why we're thrilled to be a Platinum Sponsor of this year's QuiltCon. Presented by the Modern Quilt Guild®, QuiltCon is the largest event of its kind. This year's event is held in Austin, Texas, and will bring thousands of quilters from around the world together for four days. We're so excited to attend ... and even more excited to offer YOU some of the limited-edition styles we've designed exclusively for QuiltCon.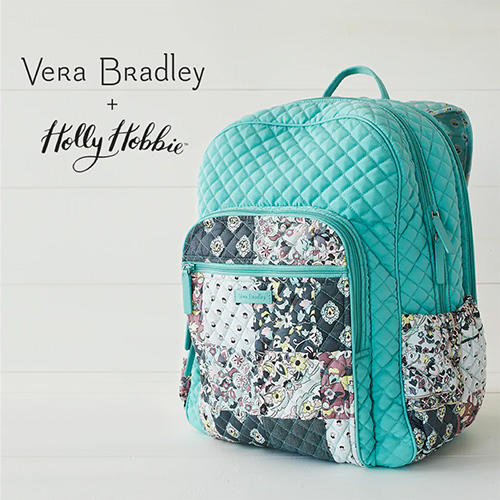 Vera Bradley + Holly Hobbie
Winter 2019

Vera Bradley and Holly Hobbie teamed up to create a limited-edition style! This online exclusive backpack was inspired by the independent spirit and optimistic outlook of the hit Hulu show's signature character.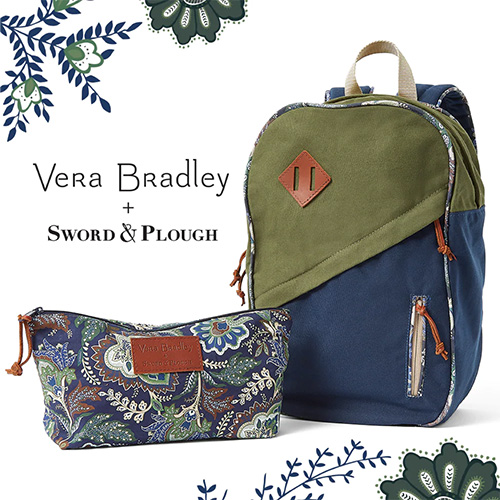 Vera Bradley + Sword & Plough
Fall 2019

For Veteran's Day, we released two limited-edition, online-exclusive styles in collaboration with Sword & Plough to support their important mission of employing veterans. Sword & Plough founders, sisters Emily and Betsy, started their bag company in 2012 with a simple idea and a powerful objective. They wanted to repurpose surplus military materials to create durable, fashionable bags and hire veterans at every stage, from design and sewing to sales and marketing. Along with our collaboration, we pledged a $10,000 donation to The Mission Continues Women Veterans Leadership Summit.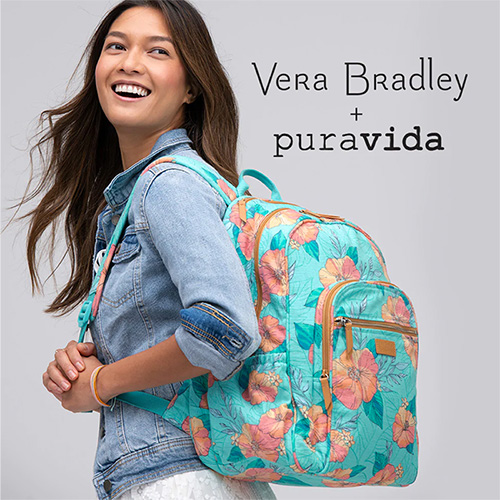 Vera Bradley + Pura Vida
Fall 2019
When you know, you know, and when we met Pura Vida, we knew we just had to collaborate. We were so drawn to their commitment to giving back. Pura Vida bracelets support 650+ artisans worldwide. In the Fall of 2019, we collaborated on a limited-edition backpack that took cues from Pura Vida's breezy beachside vibe. Since then, we've created a few exclusive bracelets that help support some of our own charity partners.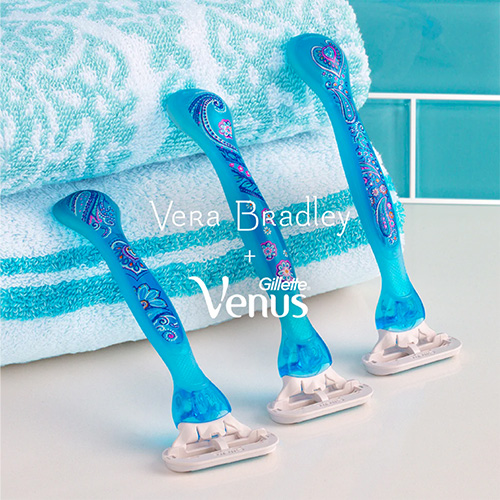 Vera Bradley + Venus
Spring 2019

We have long admired Gillette® for its innovative product introductions, and Venus razors are a fan-favorite if you ask the many women in our office. That's why this spring we were so excited to announce our partnership with Gillette® Venus. The first grooming and fashion collaboration of its kind, the collection features advanced shaving technology from Gillette® Venus and a fun take on our popular Daisy Dot Paisley pattern. The collection includes a custom-designed razor handle and blade refills, disposable razors and an ultra-creamy shave gel. All are available for purchase on Target.com now and at Target™ stores.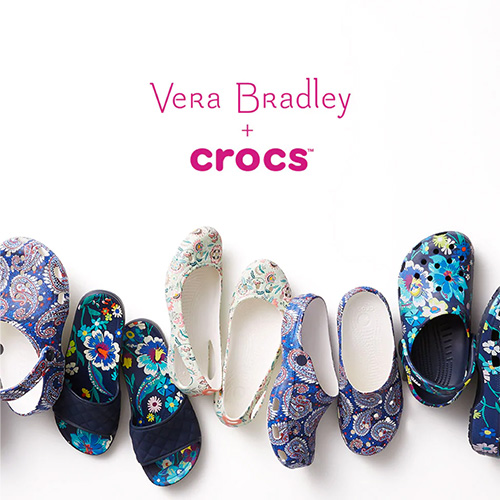 Vera Bradley + Crocs
Summer 2019

Crocs™ is our absolute favorite when it comes to comfy, cute footwear we can wear from waterside to weekend ... so of course we jumped at the opportunity to partner with an iconic brand that values practicality, style and fun (just like us)! Our first collaboration with Crocs™ pairs some of their best-loved designs — the Classic clog and Freesail, the summer-ready Sloane Slide and the versatile Kadee Flat — with our happiest new hues and prints. We are in love with the print placement and quilting detail that are exclusive to us!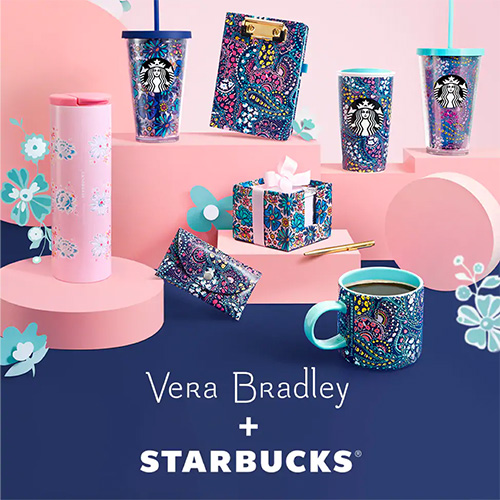 Starbucks + Vera Bradley
Spring 2019

Vibrant hues, hibiscus blooms and patio prints perfected were the inspiration for our first-ever collection with Starbucks®. Launched in May 2019, this limited-edition assortment features drinkware, stationery and a few small accessories. This colorful collection is available in select countries, mostly in Asia, including Thailand, Korea, Cambodia, Singapore, Vietnam, Hong Kong, Indonesia, Malaysia, the Philippines and Taiwan, as well as in Australia.